DEVELOPING TOWARD A SUSTAINABLE NATURAL RESOURCE IN AMAZON FRESHWATER FISHERIES
"Buy a fish, Save a tree!"
Project Piaba is a community based interdisciplinary project established to understand the ecological and socio-cultural systems of the middle Rio Negro basin, Amazonas, Brazil, in order to conserve and maintain the live ornamental fishery and other renewable resources at commercially feasible, and ecologically sustainable level.
Your tax deductible donation will help us
continue our many humanitarian projects
Project Piaba has been working solidly for many years (1989-2012) on research to promote the sustainable harvest of aquatic resources that will ensure the survival of both the Amazonian rainforests and its human inhabitants. Significant progress has been made during this time, but much more baseline data are required before firm resource management strategies can be formulated. The next phase of Project Piaba aims to generate data relating to a wide range of issues, from population of species diversity, to the function and structure of the ecosystem, and to develop measures that will help improve the livelihood of the riverine people. The ultimate goal is to promote a viable fishery at commercially and ecologically sustainable, and to help reduce environmentally destructive land use and rural-to-urban migration in the Rio Negro basin.
Vancouver Aquatic Hobbyist Society
For those interested to know Vancouver Aquatic Hobbyist Society has been a long term supporter to Project Piaba, We thank them very much for their outstanding support and donations.
NEWS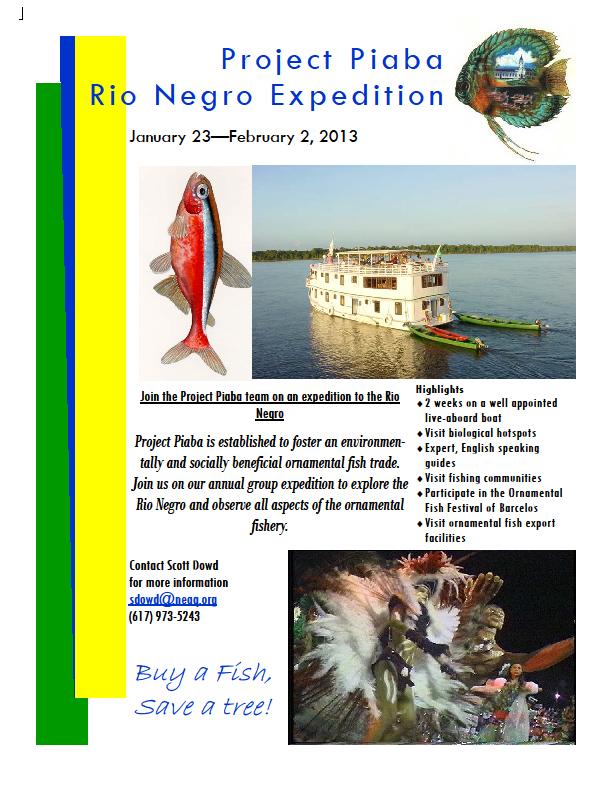 Project Piaba Rio Negro Expedition January 23 thru February 2, 2013
Join the Project Piaba Expedition and Make a Difference – A special fund raising eco-tour expedition
Need some help in designing your own tour? Read this for help.
Project Piaba has published a guide to "Piabas do Rio Negro" (Ornamental Fish of Rio Negro) for local fish collectors. It is available for sale to eco-tourists and tropical fish hobbyists. The color guide is printed on both sides and laminated in plastic sheet;, measures 20 x 30 cm (8 x 12 inches) . The $12.95 price is a donation to support Project Piaba and may be tax deductible in the US. Please contact sdowd@neaq.org to purchase, until we set up on-line credit card payment method.