OPEN LETTER TO OPEFE READERS
HISTORICAL READING ONLY
IT IS NO LONGER NECESSARY TO SEND EMAILS TO SENATOR RINGO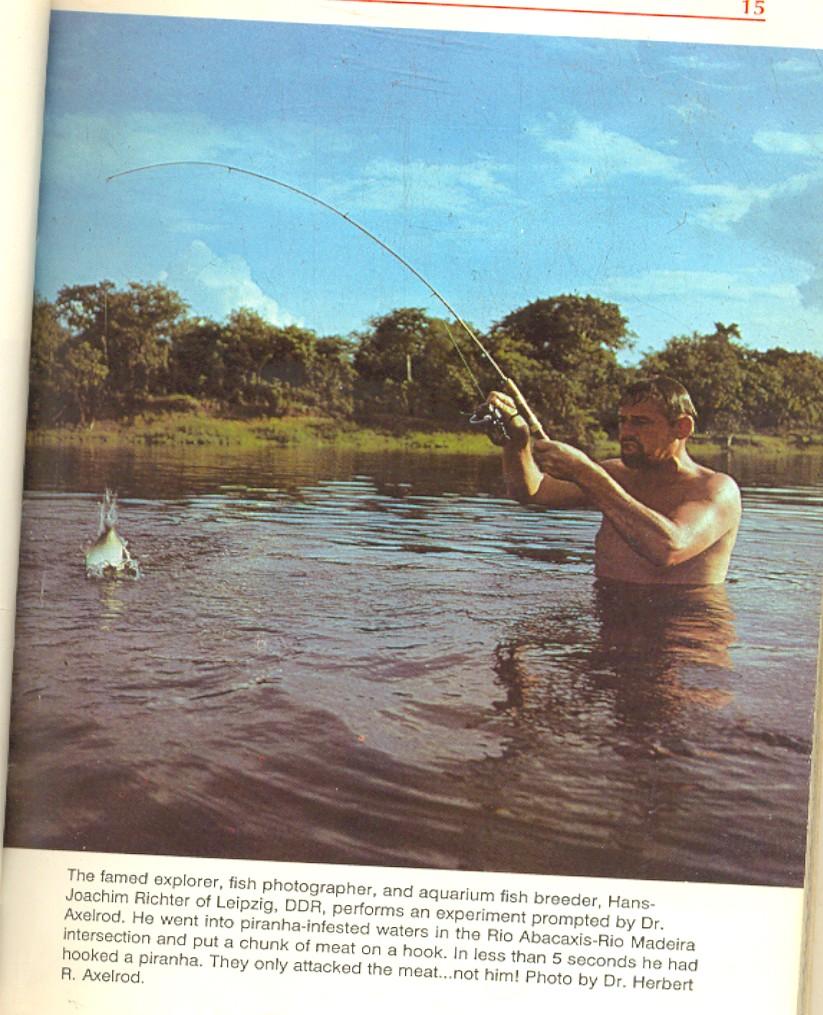 Click to ENLARGE IMAGE - Fishing for piranhas IN THE WATER! Photo from Wolfgang Schulte Piranhas In The Aquarium.
SPECIAL NOTICE - UPDATES REGARDING STATE OF OREGON PIRANHA PRIVATE POSSESSION CHANGES FOR 2005
No recent updates as of: March 9-29, 2005.

Meeting scheduled for Thursday, March 31, 2005 at 7 a.m. in Hearing Room 343, Salem State Capitol building. Discussion will be over amendment (2) to Senate Bill 125 removing references to piranha and caribe from wording.

March 31, 2005 - Senate Bill 125 with amendment 2 removing all references to piranhas and caribe has been unanimously approved. The SB 125(2) will now go before the full Senate for a vote. According to my source, it is expected to pass.

April 8, 2005 - Well, it looks as if things are done. The bill went before the Senate without much grief, and is in the books. Next stop will be committee review at House of Representatives and on to their vote!

No recent updates as of: April 28, 2005.

No recent updates as of: July 15, 2005.
INFORMATIONAL PURPOSES ONLY - NO FURTHER ACTION NEEDED
Dear OPEFE readers:
I'm asking all Piranha owners regardless of what state or country you are in to write, email or call Senator Charlie Ringo (503) 986-1717 or email: sen.charlieringo@state.or.us
WRITE TO:
Senator Charlie Ringo (Dó17)
Capitol Phone: 503-986-1717
Address: 900 Court St. NE, S-314
Salem, OR 97301


Your SUBJECT line should be: Senate Bill 125 - Prohibiting Piranhas

Your SALUTATION should be: Dear Honorable Senator Ringo:

The BODY of text should be in your own words why piranhas should not be prohibited and why they are important to you as a hobbyist. Key things to mention is how educational they are and what you've learned from the fish.
The letter is to provide information to Senator Ringo and all others that piranha ownership is not limited to just Oregon, but throughout the world. Those of you that own them in states where they are illegal, its up to you to decide whether to write or call. You of all people are probably more emotionally tied to your fish than those in "legal" states and can best tell the Senator how having them illegal has impacted your life.
Also, I was told by one of my contacts in the Senate bldg that he called ODFW a couple years ago to find out if piranhas were illegal and he was allegedly told by an ODFW officer that... only a sicko would keep that fish. So now you can see what an ODFW official thinks of you, the piranha hobbyist.
ODFW wants to amend Oregon law from this:
TO THIS:
SECTION 1. ORS 498.242 is amended to read: 498.242. (1) Except as provided in subsections (2) and (3) of this section, a person may not possess any live fish (a) Of the family Clariidae, commonly known as walking catfish; or (b) Of the subfamily Serrasalminae of the family Characidae,commonly known as caribe or piranha. (3) Subsections (1) and (2) of this section do not prohibit the possession or require a permit for the possession of live fish that are of the genera Colossoma, Metynnis or Myleus that are primarily herbivorous fish in the subfamily Serrasalminae, from the family Characidae, commonly known as pacus or silver dollar.
The change in the law as noted above would make the present possession of piranhas and caribe illegal!
Click to read: Frank Magallanes, OPEN TESTIMONY to this Senate Bill.
USE THIS LINK TO RETURN TO RESEARCH PAGE.
TO RETURN HOME CLICK HERE.