Acknowledgements
FROM FRANK MAGALLANES
I would like to thank the following people for their contributions to the OPEFE Web Site. These people gave up their time, photographs, data, sometimes living/dead fish specimens, numerous emails, paper correspondence and scientific documents to make this archive of predatory fishes and piranhas a valuable tool for educator and hobbyists alike. And a special thank you to a biology teacher that was not only my friend, but a teacher that encouraged me to keep studying piranhas, the late Mr. Jerry Lipman (Biology Teacher-Channel Islands, Oxnard, California). To Sue McDonald, Oakland, Oregon for creating the first OPEFE web site and inspiring me to continue learning web design.
Finally, my wife Jane, who has spent countless hours and years listening to me talk about piranhas. We hope that the OPEFE web site will continue to cultivate a better public understanding of fish predators and also encourage people not to release unwanted pet fish:
Honor Roll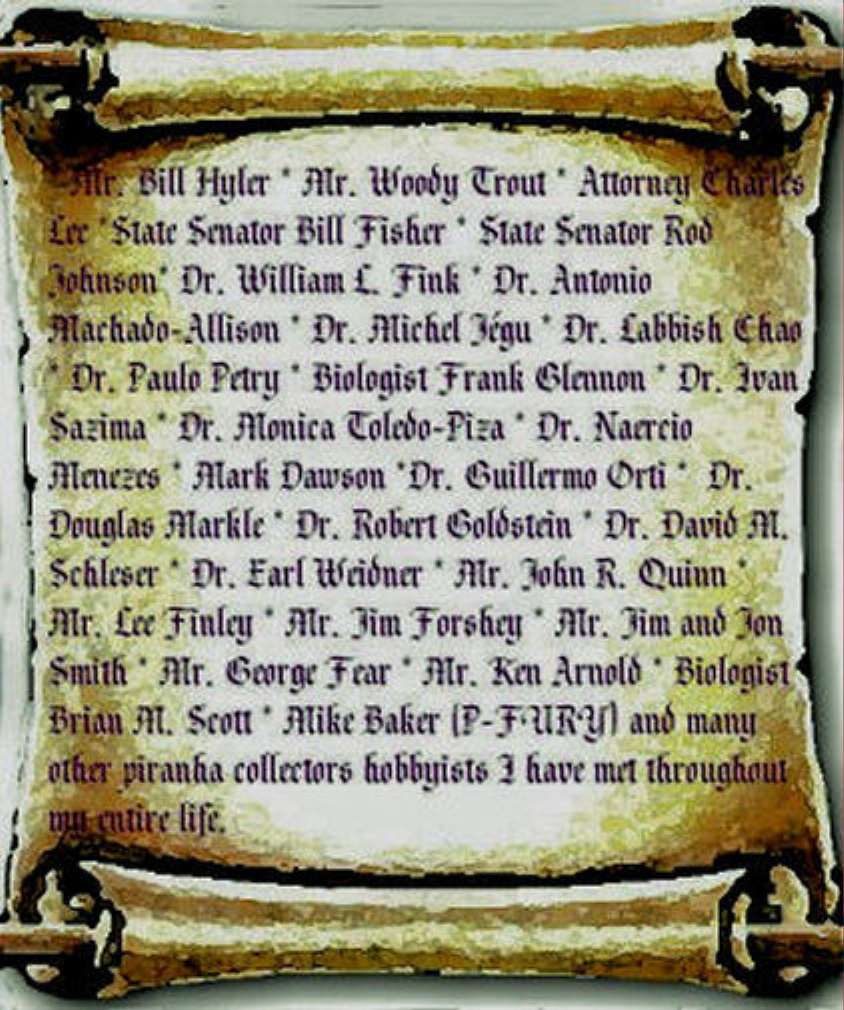 CLICK HERE TO RETURN TO RESEARCH PAGE
The OPEFE web site and its contents; is disclaimed for purposes of Zoological Nomenclature in accordance with the International Code of Zoological Nomenclature, Fourth Edition, Article 8.3 and 8.4. No new names or nomenclature changes are available from statements at this web site.
Copyrightę 1994-2016 Oregon Piranha Exotic Fish Exhibit (The OPEFE fish exhibit is permanently CLOSED as of 2000) Sutherlin, Oregon. Information posted on this web site is archival data on fish scientific classifications and other information. DISCLAIMER: The copyrighted material may not be used for any purpose other than private study, scholarship or research. Cited information requires credit and this link www.opefe.com. All rights reserved. All images shown (unless otherwise noted) is property of OPEFE.
UPDATED: 12/04/2015