OREGON DEPARTMENT OF FISH AND WILD LIFE
TAKE FRANK MAGALLANES TO COURT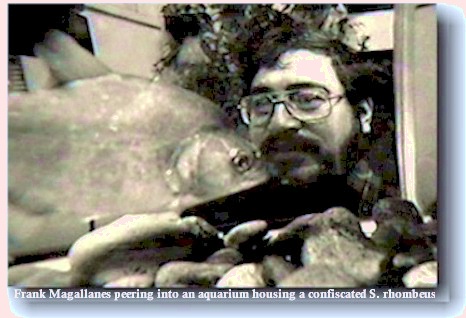 [The photo was taken at the Oregon State Police office in Roseburg. ]
The image above was taken by a DOUGLAS COUNTY NEWS-REVIEW photographer for the local newspaper. It was taken just a few weeks before the trial in District Court. The image made the front page and The Associated Press.
In this particular court case, we (Charles Lee and myself), did some research into the phrase; commonly known as. Mr. Lee found an historic legal document (People vs. Hines, 6.N.Y.S.34-11. Criminal law, 304(21) ), in a court case where the State of New York was a plaintiff against the gambler and defendant Dutch Shultz. In this finding, the court said; "The use of expressions "commonly known as" or "commonly called, " in statute referring to what was the commonly called "policy," did not require court to take judicial notice of nature of game of "policy" referred to in statute, since expressions referred to common knowledge of those connected with commission or prosecution of offense. Penal Law § 974. This simple paragraph and the The Piranha Book by G. S. Myers (1972) opened the door to allow possession of pirambeba (or those outside of genus Pygocentrus) in Oregon. Further, the court action would later inspire me to seek a blanket removal of the entire genera of piranhas from further restrictions and possession in Oregon (SEE Oregon Law).
---
FILED AT 1:45 O'CLOCK P.M.

May 19, 1993

TRIAL COURT ADMINISTRATOR
IN THE DISTRICT COURT OF THE STATE OF OREGON FOR DOUGLAS COUNTY
STATE OF OREGON
Plaintiff.


v.


FRANK MAGALLANES
Defendant.
Case No. 93-CR-0124VI
ORDER FOR RETURN
OF THINGS SEIZED
AND FOR FORFEITURE



THIS MATTER CAME BEFORE the court on the motion of Defendant for the return of things seized on January 15, 1993. The matter was heard on April 30, 1993. The Defendant was present in person with his attorney, Charles Lee, and the State was represented by Deputy District Attorney David Montgomery.

The court heard testimony of witnesses and received exhibits, and heard the argument of counsel and

FINDING ITSELF FULLY INFORMED, the court makes the following findings of fact and conclusions of law:

On January 15, 1993 the Oregon State Police seized 3 live fish, two frozen fish specimens, and a quantity of aquarium equipment from Defendant.



The three live fish were all of a species that are sometimes loosely referred to as varities of piranha, but only one of the fish was a member of the fish species properly described as piranha, being a member of a species commonly believed to be dangerous to man. The other two live fish are members of a species properly known as pirambeba, and are members of a species commonly believed not to be dangerous to man.



The phrase "commonly known as" in ORS 498.242(1)(b) is meant to identify only fish that would be identified as piranha or caribe by people knowledgeable about fish, when those people were asked to differentiate piranha or caribe from other kinds of fish.



The pirambeba in this case are differentiated from piranha or caribe by people knowledgeable about fish by their characteristic of not being dangerous to man.



The frozen fish and aquarium equipment are not subject to forfeiture.


NOW, THEREFORE, IT IS HEREBY ORDERED that:


the fish properly identified as a piranha shall be forfeit to the State of Oregon, and



The Two fish properly identified as pirambeba shall be returned to the Defendant, and



The frozen fish and aquarium equipment should be returned to Defendant.


DATED this 18th day of May, 1993.
SS
WILLIAM LASSWELL
Judge

SO STIPULATED:

STATE OF OREGON
By: David Montgomery,
Deputy District Attorney
Submitted By:
PARSONS, LEE & KASER, P.C.
Charles F. Lee, Attorney
420 SE Jackson/PO Box 12276
Roseburg, OR 97470
(541) 672-1611
OSB #74187
USE THIS LINK TO RETURN TO RESEARCH PAGE
USE THIS LINK TO RETURN LAWS AND PIRANHAS
TO RETURN HOME CLICK HERE.
The OPEFE web site and its contents; is disclaimed for purposes of Zoological Nomenclature in accordance with the International Code of Zoological Nomenclature, Fourth Edition, Article 8.3 and 8.4. No new names or nomenclature changes are available from statements at this web site.
CopyrightŠ 1994-2012 Oregon Piranha Exotic Fish Exhibit (The OPEFE fish exhibit is permanently CLOSED as of 2000) Sutherlin, Oregon. Information posted on this web site is archival data on fish scientific classifications and other information. DISCLAIMER: The copyrighted material may not be used for any purpose other than private study, scholarship or research. Cited information requires credit and this link www.opefe.com. All rights reserved. All images shown (unless otherwise noted) is property of OPEFE.