WHAT IS THE MOST DANGEROUS AND MEANEST PIRANHA AVAILABLE?
by Frank Magallanes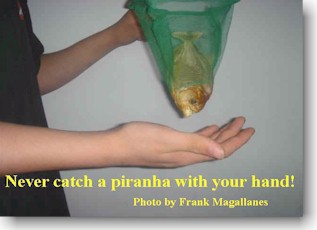 A very serious bite can occur if you are not careful! See this link for possible consequences.
Question: What is the most dangerous piranha?
Answer: The one flopping around the floor next to your hands or feet.
Question: What would be the meanest piranha you can buy?
Answer: The one that Hollywood creates for you.
USE YOUR BACKSPACE TO RETURN OR CLICK HERE TO RETURN RESEARCH PAGE
TO RETURN HOME CLICK HERE.
The OPEFE web site and its contents; is disclaimed for purposes of Zoological Nomenclature in accordance with the International Code of Zoological Nomenclature, Fourth Edition, Article 8.3 and 8.4. No new names or nomenclature changes are available from statements at this web site.
Copyrightę 1994-2012 Oregon Piranha Exotic Fish Exhibit (The OPEFE fish exhibit is permanently CLOSED as of 2000) Sutherlin, Oregon. Information posted on this web site is archival data on fish scientific classifications and other information. DISCLAIMER: The copyrighted material may not be used for any purpose other than private study, scholarship or research. Cited information requires credit and this link www.opefe.com. All rights reserved. All images shown (unless otherwise noted) is property of OPEFE.
UPDATED: 12/13/2011