Meeting David M. Schleser
LATEST NEWS, after much lobbying by piranha hobbyists, the revision has been published 2008 and is available from www.amazon.com. Thanks to everyone for your support.
On September 9, 2004, I was afforded the unique opportunity to spend time with David M. Schleser, author and professional photographer. Dave, as he likes be called, wrote a book on piranhas called; Piranhas A complete Owners Manual. This book is published by Barron's Educational Series, Inc., Hauppauge, NY and since 1997 in its first printing has done quite well.

The book is the only published hobbyist book on piranhas I presently endorse as good reading and factual.

Dave and I have known each other (but never met in person), through National Geographic Explorer and Richard Conniff who told Dave about me. We have talked to each on the phone and sent many personal emails to each other. It was certainly electric and when we finally met and it was like finding an old friend. Salem, Oregon will have a greater meaning to me since meeting this gentleman. I found Dave to be not only kind and generous, but also hilarious and quick witted. Never a dull moment with him. It was truly an awe inspiring moment.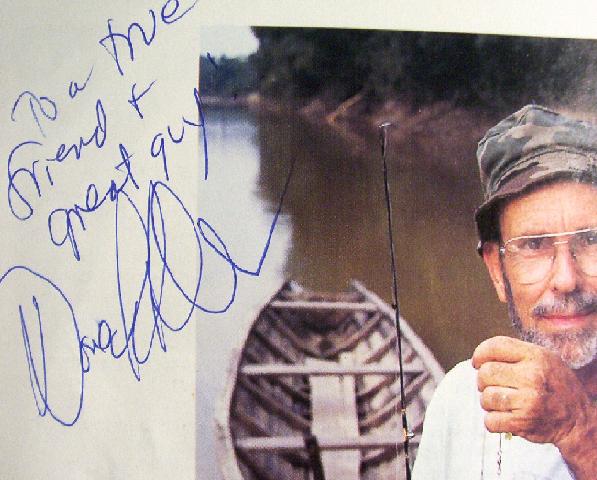 Dave, during our meeting, discussed many topics on fish and of particular interest to Piranha-Fury members was species of piranhas. Foremost was the topic Serrasalmus sanchezi and a fish presently classified as a member of the spilopleura complex from Peru. (New information: S. sanchezi is actually a member of the rhombeus complex and should not have been placed with spilopleura - Magallanes in conversation with Michel Jégu, Sept 9, 2004).
We also talked about S. manueli and looked through his book talking about S. gouldingi and the new species being reviewed by Antonio Machado.

During this 4 hour meeting, we went to a Mongolian BBQ (which neither of us had been to before) and it was hilarious while we tried to figure out the menu and what exactly we were supposed to do. Dave took photos of me and my wife. I returned the favor by having my wife photograph him and I together holding a Piranha-Fury sticker (see photo). He also autographed his book (see photo, left).

Dave is very happy and humbled by the many hobbyists who view him as an expert on piranhas. His book, continues to do well and it is my hope that hobbyists will take it upon themselves to contact Barron's publishing and ask for a reprint with updated material.

Member can write to: Barron's Educational Series, Inc.
250 Wireless Boulevard
Hauppauge, NY 11788

And mention issue no: 0-8120-9916-8 and the title of the book.
USE THIS LINK TO RETURN TO RESEARCH PAGE
TO RETURN HOME CLICK HERE.
The OPEFE web site and its contents; is disclaimed for purposes of Zoological Nomenclature in accordance with the International Code of Zoological Nomenclature, Fourth Edition, Article 8.3 and 8.4. No new names or nomenclature changes are available from statements at this web site.