Mylesinus paraschomburgkii
Jégu, Santos and Ferreira, 1989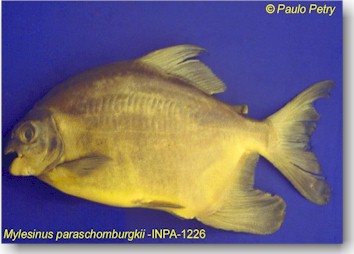 INPA 1226. 250 mm SL. Locality type: River Trumpets, en endorsement Vira-Mundo Waterfall, Pará. 07/X/1985. Coll. E. Ferreira & L. Py-Daniel.
Left tributaries of lower Amazon River, Araguari River: Brazil
Mitochondrial DNA phylogeography of Mylesinus paraschomburgkii
(Characiformes, Serrasalmidae) from the eastern Amazon basin as inferred from sequence data. Jorge I.R. Porto, John R. Gold and Michel Jégu
M. paraschomburgkii is a reophilic serrasalmid species with a strong habitat specificity that occurs only in the rapids and waterfalls of Amazon rivers that drains the Guianean shields. Morphological and parasitological data suggests differentiation among populations of M. parashomburgkii from Uatumc, Trombetas and Jari river drainages in the Eastern Amazon basin. We have used mtDNA sequence to test a biogeographic hypothesis in which Jari population is considered a sister group of Trombetas and Uatumc populations. A total of 432bp encompassing ND4L/ND4 genes and up to 402bp within the mtDNA control region were sequenced in individuals of M. paraschomburgkii from Pitinga and Jatapu rivers (Uatumc drainage), Trombetas river (Trombetas drainage) and Iratapuru river (Jari drainage), and a individual of Tometes sp from Xingu river as outgroup taxa. We observed population-level separations among river drainages (average sequence divergence of ~3% for ND4L/ND4 and ~5.5% for control region), and a east-west phylogeographic split that is concordant with the former biogeographic hypothesis. Congruence of morphological, parasitological, and molecular data will be evaluated and association of these data with historical events occurred in the Quaternary will be discussed. INPA/CNPq/ORSTOM/Ministhre Frangais de l'Environment/Texas A & M University.
Mylesinus paucisquamatus
Jégu & Santos, 1988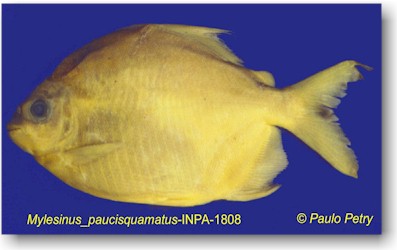 Tocantins River basin, Brazil
Mylesinus schomburgkii

Valenciennes 1850

Essequibo and Orinoco River basins: Guyana and Venezuela