Serrasalmidae
Serrasalmo undulatus
1841
Wave-lined saw-bellied salmon, L, Geral, Chidova.Schomb. Drawings, No. 52
CURRENT STATUS: Species inquirenda in Serrasalmus
HISTORICAL AUTHOR
The drawings of this small species show a different porportion from the last. The head is proportionally much longer, the under jaw projects, and both are armed with rather strong teeth. The dorsal outline is undulated to a less degree than the last (S. emarginatus), but the adipose fin is situate remote from the tail, and rather nearest to the dorsal. Another remarkable peculiarity is the lateral line performing three distinct undulations in its length, as in the line below.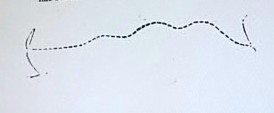 The upper part of the body is bluish grey, shading to white or silvery above the lateral line, continuing thence over the belly and vent, and towards the tail becoming yellowish. The two dorsal fins and the tail are blackish brown; the first has an anterior spine, and a distinct dark band nearly through the centre; the latter is considerably forked, and darkest near the base. The three lower fins are umber-brown, the anal darkish toward the tip, and thence slighly tinted with light red. The iris is coloured yellow.
"Taken in the river Padauiri, in January; grows to six inches in length, and takes bait. Scales are small, fringed, deciduous; tongue round, fleshy; teeth, a single row, sharp, triangular, serrated; airbag double. Food, the roe of other fish."
D. 17 - P. 13 - V. 6 - A. 32 - C. 28 - Br. 4 - Ribs, 12 pairs, large - Vert. 33.
undulatus, Serrasalmo Jardine [W.] in Schomburgk 1841:232 [The Natural history of fishes of Guiana.--Part I.; Rio Padauiri. No types known. Genus name in account as S., presumed to be an abbreviation of Serrasalmo. •Species inquirenda in Serrasalmus -- (Jégu in Reis et al. 2003:192).
DISTRIBUTION
Rio Padauiri.
REFERENCES
JARDINE, Sir William Bart. 1852 Vol. XXXIX. The Naturalist's Library., Ichthyology. Fishes of British Guiana - Part I. by R. H. Schomburgk, Esq.

William Eschmeyer California Academy of Sciences (CAS): VIEW
USE YOUR BACKSPACE TO RETURN OR CLICK HERE TO RETURN SERRASALMUS LIST
USE THIS LINK TO RETURN TO RESEARCH PAGE.
The OPEFE web site and its contents; is disclaimed for purposes of Zoological Nomenclature in accordance with the International Code of Zoological Nomenclature, Fourth Edition, Article 8.3 and 8.4. No new names or nomenclature changes are available from statements at this web site.
Copyright© 1994-2012 Oregon Piranha Exotic Fish Exhibit (The OPEFE fish exhibit is permanently CLOSED as of 2000) Sutherlin, Oregon. Information posted on this web site is archival data on fish scientific classifications and other information. DISCLAIMER: The copyrighted material may not be used for any purpose other than private study, scholarship or research. Cited information requires credit and this link www.opefe.com. All rights reserved. All images shown (unless otherwise noted) is property of OPEFE.

UPDATED: 12/27/2011