CARIBITO
Pristobrycon careospinus
FINK and MACHADO-ALLISON 1992
Page dedicated to my friend Ivan Mikolji
(LEFT) FIRST LIVE WORLD VIEW of P. careospinus.
INTRODUCTION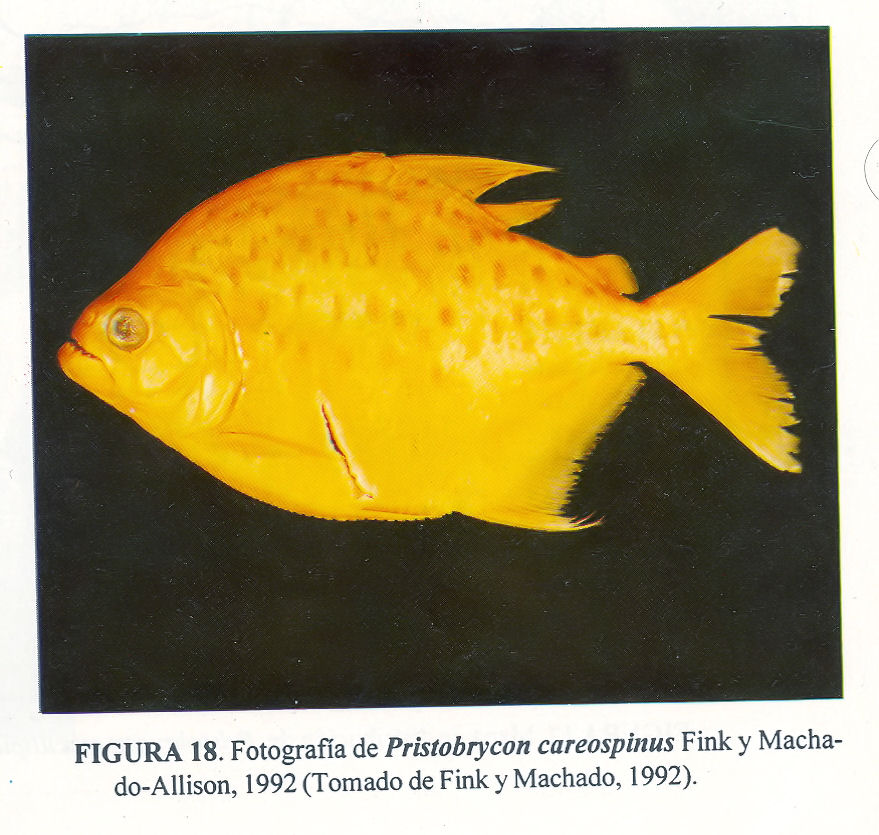 The body on this fish is very discoid, with the first dorsal spine erect and very high. The head is robust and wide with a bulldog like mouth. The pre-anal spine is not present. The ectopterygoid teeth are absent as well. Dorsal fin base is moderate with 2 simple rays and 15 branched rays. The adipose fin base is wide. Vertebrate 37. Numerous small scales. Pre-pelvic serrae 20, post-pelvic 10. Branched rays short at the base and modified, 25-26. Not seen, even in captivity. No information available, at this point in time, it is considered rare and not seen by anyone except science.
Since writing the above, new information has been provided by Ivan Mikolji (Venezuela). This fish dealer, photographer and explorer was able to finally photograph this elusive species under some very precarious and dangerous situations. A few times, nearly being swept away by the current of the Atabapo River, Ivan and his partner (Alipio) were able to finally find the species. This species was not only elusive, but Ivan had to navigate branches with thorns in the river. For the complete story, read the Tropical Fish Hobbyist Magazine November 2008 article.
UPDATE: August 12, 2009; for those reading the in-depth story of P. careospinus expedition read it from the explorer's own words, by clicking here.
A special thank you to Ivan Mikolji for providing OPEFE these live photos of P. careospinus.
DESCRIPTION
Pristobrycon careospinus is a serrasalmin with the unique combination of large dark ovate spots on the body side and no pre-anal spine. The species is based on a single example from the Laguna El. Loro, Cueca del Rio Ataba, near the population center of San Fernando de Atabapo in the State of Amazona. The specimen example appears to be a preadult. (Fink and Machado-Allison, 1992).
This species was compared with other members of genus Pristobrycon (P. striolatus and P. maculipinnis) and absence of the pre-anal spine. Nonetheless, the differences to these others are the coloration and oval spots.
LOCALITY
Pristobrycon careospinus is described from black water areas of southern Venezuela and from the Rio Atacavi. (Fink and Machado-Allison, 1992).
REFERENCES
MACHADO-ALLISON, Antonio and FINK, William., 1996 - Los Peces Caribes de Venezuela, Diagnosis, Claves, Aspectos Ecologicos Y Evolutivos, pg. 29-31.

FINK, W. L. and MACHADO-ALLISON, A. 1992 (Feb.) Three new species of piranhas from Brazil and Venezuela (Teleostei: Characiformes). Ichthyol. Explor. Freshwaters v. 3 (no. 1): 55-71.

PROVENZANO, F., A. MARCANO and P. MONDACA 1998 (Mar.) Catálogo de ejemplares tipos en la colección de peces del Museo de Biología de la Universidad Central de Venezuela. (MBUCV-V). Acta Biol. Venez. v. 18 (no. 1): 1-24.

MIKOLJI, Ivan, 2008, Tropical Fish Hobbyist Magazine, November Issue; Date( pending), Page (pending).
USE YOUR BACKSPACE TO RETURN OR CLICK HERE TO RETURN GENUS PRISTOBRYCON
USE THIS LINK TO RETURN TO RESEARCH PAGE.
The OPEFE web site and its contents; is disclaimed for purposes of Zoological Nomenclature in accordance with the International Code of Zoological Nomenclature, Fourth Edition, Article 8.3 and 8.4. No new names or nomenclature changes are available from statements at this web site.
Copyright© 1994-2012 Oregon Piranha Exotic Fish Exhibit (The OPEFE fish exhibit is permanently CLOSED as of 2000) Sutherlin, Oregon. Information posted on this web site is archival data on fish scientific classifications and other information. DISCLAIMER: The copyrighted material may not be used for any purpose other than private study, scholarship or research. Cited information requires credit and this link www.opefe.com. All rights reserved. All images shown (unless otherwise noted) is property of OPEFE.
ca
UPDATED: 12/05/2015